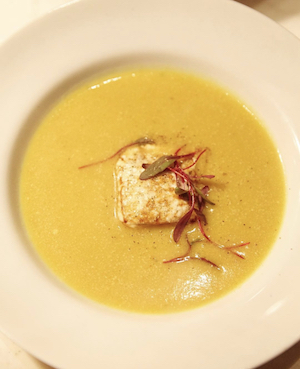 Turmeric Butternut Cashew Soup with Torched Marshmallow
This rich, creamy, soup will warm you up on cold winter days.
Ingredients
3

tbsp

coconut oil

1

large onion

peeled & finely chopped

1

cup

raw cashews

2

cloves

garlic

finely chopped

1

large butternut squash

(about 2lbs), peeled and cut into 1/2-ince dice

5

cup

vegetable or chicken stock

plus additional to thin if soup is too thick

2

tbsp

minced fresh garlic

5

tsp

ground cumin

5

tsp

ground coriander

5

tsp

curry powder

23 inch

piece

tumeric

grate on microplane for 1 tablespoon

Kosher salt and freshly ground black pepper to taste

1

cup

coconut milk

additional (optional)

2

sprigs

fresh rosemary

2

tsp

Marshmallow fluff or homemade plain marshmallow

if desired for extra creaminess and sweetness
Instructions
Toss the butternut squash chunks with enough olive oil, salt and pepper to coat and roast at 425 for approx 45 mins until golden/caramelized brown. Check after 25-30 mins and if starting to turn a golden caramelized color flip pieces so other sides can brown.

In large stockpot or Dutch oven set over medium-high heat, warm the coconut oil until shimmering. Add the onions and cook, stirring, until they begin to soften, about 5 minutes. Add the cashews and cook, stirring, until the onions are translucent and the cashews have turned golden, about 3 minutes. Add the fresh ginger, cumin, coriander, curry powder, fresh turmeric and stir to combine. After about a 30 seconds- 1 minute, once spices are fragrant, stir in the garlic and cook for another 30 seconds. Add the roasted butternut squash, broth, and bring the soup to a simmer. Reduce the heat to low, cover the pot, and cook the soup for about 20 mins. Uncover the soup and let it cool for 15 minutes.

Starting on slow speed and increasing to high, purée the soup in small batches, in a blender until smooth. You can also use an immersion blender (let the soup remain in the pot), but it will take longer to purée until smooth.

If using a blender, return the soup to the pot, add the coconut milk and rosemary sprigs, and cook over low heat, covered, until slightly thickened, for about 15 to 20 minutes. Season to taste with salt and pepper.

Place about 2 teaspoon amount of marshmallow in a shallow serving bowl. With a culinary torch, lightly torch marshmallow till caramelized. Pour soup around the marshmallow.