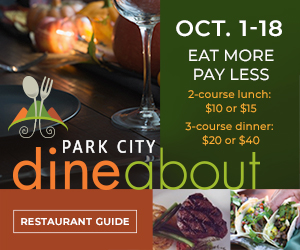 From Thursday, October 1 – Sunday, October 18, the Park City Area Restaurant Association (PCARA) hosts the 8th Annual Dine About Park City, inviting locals and visitors to enjoy world-class cuisine at an incredible value. For only $10-$15 per person for 2-course lunches and $20-$40 per person for 3-course dinners, Dine About Park City offers an approachable way to enjoy the best of the community's renowned dining scene.
Twenty-four distinguished restaurants are participating in Dine About Park City including: Billy Blanco's, Baja Cantina, Bangkok Thai on Main, Blind Dog, Café Terigo, Chimayo, Deer Valley Grocery Café, Estes Pizza, Flanagan's on Main, Ghidotti's, Goldener Hirsch Inn, Grappa, Handle, Park City Provisions by Riverhorse, Purple Sage, Riverhorse on Main, Shabu, Squatters, Sushi Blue, Twisted Fern, Versante, Wahso, Wasatch Brew Pub and Windy Ridge Café.
Stay Park City, the official lodging partner of PCARA, will be offering exclusive lodging packages for Dine About guests. From picturesque alpine resorts, hotels in the heart of bustling downtown, to cozy neighborhood stays, these well-curated accommodations have something for everyone in search of a unique overnight experience at the guaranteed lowest rates. Visit here to book your special Dine About stay.
For more information about Dine About Park City, the Stay Park City partnership or PCARA, contact Christa Graff, of Graff Public Relations, at christa@graffpr.com or 435-640-7921.
Courtesy of Graff Public Relations