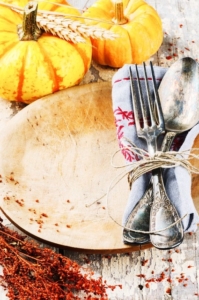 Visit parkcityrestaurants.com for the most up-to-date Thanksgiving information. Currently, PCARA Thanksgiving offerings include:
Enjoy Thanksgiving dinner with the family from 2 p.m. – 10 p.m. Two courses include a heap of turkey, mashed potatoes, stuffing, garlic green beans, candied yams, cranberry sauce, and choice of pecan or pumpkin pie. $55 for adults, $38 for kids, before tax and
gratuity. The full regular menu will also be available. Reservations are encouraged on Resy.
Take-away items to complement your Thanksgiving dinner include lemon thyme sauce, cranberry chutney, roasted garlic mashed potatoes, green bean au gratin, and wild mushroom stuffing. Pie selections include pumpkin, pecan, country apple, blueberry and cherry. Deer Valley cookies, carrot cake, apple brown sugar coffee cake and rolls are also available. Place orders by 3:30 p.m. on Monday, Nov. 21, and pick up orders on Tuesday, Nov. 22. Place orders by calling 435-615-2400.
Indulge in a Thanksgiving Day buffet from 11 a.m. – 5 p.m. Start with charcuterie, roasted beets, or shrimp cocktail, and choose from wild rice & shitake mushroom soup, butternut squash sage bisque, winter greens salad, or the fall farrow salad. Entrees include prime rib, turkey, ham, salmon, kid's pizza and chicken tenders. Dive into sides of chive mashed potatoes, stuffing, and roasted winter vegetables, before a variety of dessert options. $75 for adults, $50 for children 12 and under, children 2 and under are free. Reservations are required by Wednesday, Nov. 23 at 5 p.m. here.
Enjoy a full Thanksgiving menu from 2 – 7:45 p.m. of wild rice and mushroom soup, Caesar or house salad, carved roasted tom turkey, autumn harvest dressing, gravy, green beans, mashers, citrus cranberry relish, pumpkin pie, or spiced apple bread pudding. $41.75 for adults, $21.75 for children 12 and under. Reservations are highly recommended on Resy.
Hill's Kitchen Café & Catering
Pick up dinner for eight including Half Mary's organic turkey, house brined ham, rosemary sage stuffing, mashed potatoes and gravy, green bean casserole, brussels sprouts with bacon and cranberry, cranberry sauce, cheddar biscuits, truffle mac and cheese, refuel salad, Caesar salad, and charred onion dip and potato dip. Don't forget Pastry Chef Jessie Rae's house roasted pumpkin, double crust apple, and pecan pies. Orders are available for pickup on Thanksgiving from 10 a.m. – 3 p.m. Call 435-800-2870 to place orders.
Celebrate Thanksgiving with an expertly crafted traditional feast at KITA with classic sliced turkey breast & confit thigh, perfectly accompanied by traditional mashed potatoes, orange cranberry chutney, cornbread stuffing, and sautéed green beans. Finish with house made warm apple pie or pumpkin pie with Chantilly cream. Reservations can be made on Open Table.
Open Thanksgiving from 11 a.m. – 1 a.m., No Name Saloon offers their annual Free Turkey Dinner beginning at 2 p.m. until the buffet runs dry. The full regular menu will also be available all day.
Have Thanksgiving delivered the day before or on Thanksgiving morning, and just pop it in the oven before the guests arrive. Menus include 48-hour cider brined organic turkey, roasted apple pan gravy, French bean casserole, ciabatta and sage stuffing, house made cranberry orange sauce, and pumpkin pie. Mixed fall garden salad and Yukon gold potatoes on Thursday's menu only. Additional sides include buttermilk biscuits, white cheddar mac and cheese, and sweet potato casserole. Morning breakfast of Hatch green chile breakfast burritos and fruit is also available. Orders are delivered cold with cooking instructions, four-person minimum. To place orders, call 801-742-1932 or email sales@redmaplecatering.com.
Save time in the kitchen, order ahead, and pick up Thanksgiving dinner this year. Start with a meat and cheese platter or butternut squash soup, indulge in roasted turkey, honey baked ham or overnight lamb leg, joined by sage stuffing, mashed potatoes, focaccia bread, asparagus, brussels sprouts with bacon and dates, mac and cheese, pomegranate cranberry jam, house made gravy, and finish with a pecan or pumpkin pie. Orders are available for pickup Nov. 21 – 24 from 8 a.m. – 4 p.m.
Stein Eriksen Lodge's Thanksgiving Day Buffet from 11 a.m. – 7 p.m. will feature live music and an abundant spread of holiday favorites along with the regular Troll Hallen menu. $135 for adults and $45 for kids 5 – 12. Reservations are strongly encouraged.
Courtesy of Graff Public Relations